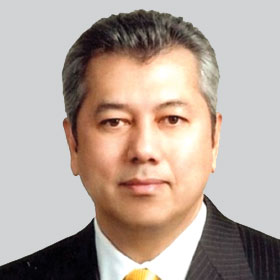 Npairoj Piempongsant
Group Founder and Senior Partner
Npairoj is the main driving force behind Empire Asia, bringing his 35-years of diverse project experience and international connections to the table in all aspects of sports and sports rights management, real estate development, renewable energy and natural resources development throughout the Asia-Pacific Region. His many achievements and successes over the years include his leadership under Thai Prime Ministe Chatichai in the creation and execution of Thailand's Eastern Seaboard Economic Zone (ESB) with its integrated petrochemical, automotive and logistics ports & industrial zones that now generate over 40% of Thailand's GDP.
Npairoj is also senior advisor to the chairman of the Reignwood Group of Beijing, China, assisting the group for more than 25 years in its international business activities, and utilizing this position to promote and facilitate bi-lateral business & diplomatic relationships between China, ASEAN, Europe and the United States. In this regard, in 2009 led the way for the Reignwood Group to invest in the natural resources sector with its strategic acquisition of shares in PT Bumi Resources Tbk, the leading coal producer and exporter from Indonesia, and PT Energi Mega Persada (EMP), Indonesia's second largest oil & gas company.
Most recently, Npairoj has used his world-wide involvement in football & ports, coupled with his experience and reputation in regional & bi-lateral affairs, to facilitate and promote a new era of "bridge-building" and connectivity among disengaged regional players. Npairoj is a Member of the Thai University Council and holds an Honourable Doctorate Degree in Education Management from Burapa University in Chonburi, the leading university in Thailand'sEastern Seaboard; and he also holds a BS Degree in Industrial Arts from Rajabhat Phranakorn University.